Home
->
News
-> ALTRAD Italia - Work together with Rosetti Marino & ConocoPhillips UK on the Jasmine development
13/03/2012
ALTRAD Italia - Work together with Rosetti Marino & ConocoPhillips UK on the Jasmine development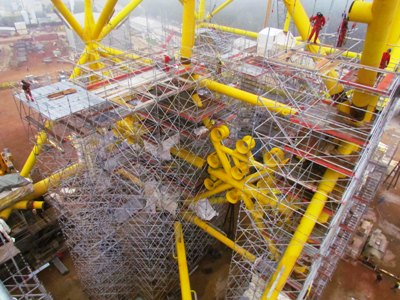 ALTRAD Italia - Work together with Rosetti Marino & ConocoPhillips UK on the Jasmine development project.
In 2010 ConocoPhillips UK had awarded to Rosetti Marino a contract for the procurement and the construction of three jackets aimed at developing the Jasmine field in the UK Continental Shelf.

The substructures, weighing 24.000 tonne including 21 piles, are being built in the Piomboni yard in Marina di Ravenna.
The sail-away of the first jacket is anticipated in April 2011, while the other two will be delivered one year later.
ALTRAD Italia supplied 1.300tons of ALTRAD Plettac Contur scaffolding to assist with this project.
For more details about ALTRAD Plettac Contur click HERE.